Truck company liability in Illinois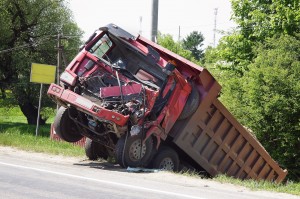 Company practices must meet legal requirements
Trucking companies have a duty to follow legal guidelines set by the federal government, as well as Illinois state laws. Guidelines for background checks, drug testing and others must be followed or the employer is guilty of negligent hiring practices. Employees must also maintain a good record to be allowed to continue behind the wheel. For example, according to Federal Motor Carrier Safety Administration regulations, a company that employs a driver with a suspended license or does not disqualify or that fails to penalize a driver with serious traffic violations may also be liable for an accident caused by the operator.
In a truck accident on an Illinois interstate last July, a truck driver hit three cars and killed four people. After investigation, law enforcement discovered that the operator allegedly falsified his logbook, possibly working significantly longer than the 11 hour limit. He also had numerous traffic violations, including three recent speeding tickets, a citation for driving without a proper license and others.
Truck company liabilityapplies to cases where the driver is pressured to keep a schedule that does not supply adequate rest breaks, and an accident is the result of fatigue. When there is evidence that a company requires its employees to work more than the federal law allows, it could be held responsible for damages in an accident.
Trucks must be maintained according to guidelines
All truckers are required to inspect vehicle components daily before driving. Problems with a vehicle may be the fault of a mechanic or a manufacturer defect, as well. However, a trucking company is responsible for the regular vehicle maintenance and inspections for every tractor trailer in its fleet. The employer may also be held accountable if the truck's weight exceeds the federal or state limits.
A tractor trailer may weigh up to 80,000 pounds, and a vehicle of this size and weight can cause devastation in an accident, including property loss, lost wages, injuries, permanent disability and death. Even when a lawsuit is filed against a truck operator, a victim of an accident is sometimes able to file third-party lawsuit against the trucking company. An Illinois personal injury attorney can help guide a victim through this type of complex case to maximize the compensation options available.