Preparation & Caution Crucial in Preventing Winter Driving Accidents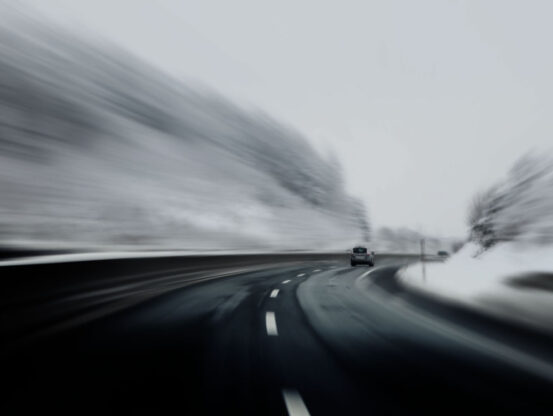 (Article continues below Infographic)
Hallmarks of winter driving include reduced visibility due to blowing snow, increased precipitation which reduces friction between pavement and tires, fog, and unseen damage to pavement. Each of the factors make detecting dangers and avoiding accidents more difficult for drivers. In Illinois, our state's accident rates begin climbing in December and rise steadily through April due in large part to prevailing weather conditions.
On average, Chicago receives 38 inches of snowfall every winter. This leads to an increase in accident rates as drivers attempt to navigate roads covered in snow, ice, and slush. These rates tend to spike around the holidays as more drivers head over the river and through the woods to spend time with family.
Nationwide, the Federal Highway Administration (FHWA) estimates that adverse weather conditions are responsible for 23% of automobile accidents. In 2012, the latest year data is available for, the FHWA estimated that 20% of automobile accident injuries, and 17% of fatalities could be directly attributed to the impact adverse weather has on driving conditions. Many of these accidents which cause 900 deaths, and 76,000 people to become injured occur when sleet or snow are present.
Last year in Illinois, 4,318 people were injured, and 49 were killed during adverse winter weather conditions which is why the state is listed as a "high risk" state. Our climate and geography create the perfect conditions for snow and ice formation which can make driving treacherous. For this reason, drivers should utilize extra caution when traveling throughout the winter. When possible, drivers should avoid driving in adverse weather unless it is absolutely necessary for work or resolving an emergency.
Moreover, proper preparation of a driver's vehicle can significantly reduce the risk of accidents during the winter driving season. One important step drivers can take is to install winter tires. In Quebec, where winter tires were made mandatory in 2008, there was a 5% drop in collision related injuries. Germany passed similar legislation that same year and experienced a nearly 50% decrease.
Drivers are also advised to inspect their vehicle's lighting and electrical systems. Broken tail lights reduce a vehicle's visibility to other drivers which increases the likelihood of being rear-ended. This can cause whiplash, brain injury, and paralysis. It is also wise to test all the systems in the vehicle to ensure the defrosters, windshield wipers, and controls work properly. These help maintain a driver's visibility of other vehicles during low-visibility conditions. Nationally, 38,700 accidents a year occur in foggy conditions. These accidents claim roughly 600 lives and injure another 16,000. Chicago's location makes it particularly prone to fog and decreased visibility conditions which is why drivers should carefully check their vehicles to ensure they can see, and be seen.
It is also important for drivers to check batteries, hoses, and belts. One of the greatest dangers drivers face is to be "broken down" on the side of the road when these components fail. Every year, thousands of people are injured or killed as they attempt to restart stalled vehicles. Mitigating the possibility of a breakdown reduces the possibility of this happening.
An important preparatory step Illinois car accident attorneys recommend drivers take is to include a vehicle safety kit in their car's trunk. These kits should contain a flashing light, medical kit, warm clothing with reflective strips attached, water, and flares. These can be used to establish a vehicle, and driver's visibility on the roadside should it break down.
Equally as important to being prepared for winter weather is remaining alert and vigilant while driving. Distracted driving, driving too fast for conditions, and winter weather are deadly combinations. In 2013, the NHTSA estimated that there were 210,341 crashes on snowy streets, and a 151,944 crashes on icy pavement. Many of these accidents occurred because drivers were driving too fast for conditions. These accidents caused 95,000 injuries and 1,300 fatalities; many of which could have been avoided had drivers merely slowed down on the way to where they were heading.
Drivers can minimize the risks of winter driving by always driving defensively, following winter travel advisories, and ensuring their vehicles are properly maintained and outfitted with snow tires, chains, and other protective equipment. These preventative measures have been shown to effectively reduce the risk of being involved in an automobile accident when the roads are covered in snow and ice. A little extra caution will go a long way towards ensuring a safe and injury free winter season.