Restaurant Workers Injured On The Job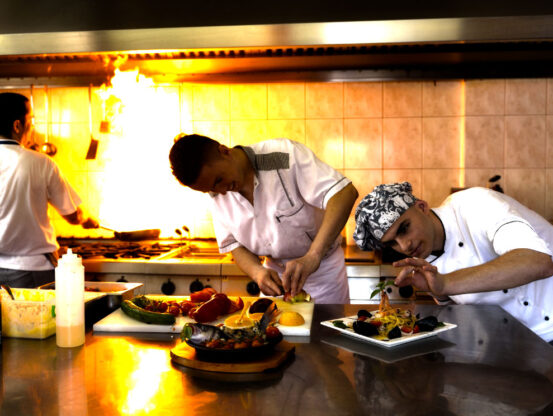 Lugging cases of product from the cooler or freezer to food preparation areas is a potentially injury-producing event in a busy restaurant. These injuries are notably more likely on slick floors during the frantic pace of a busy dining period.
Food Service Injuries
According to the Bureau of Labor Statistics, in 2014, 67,200 injuries were reported from among the 2.1 million full-time-equivalent restaurant employees. The report also assumes that a substantially higher number of injuries are never reported.
OSHA Guidelines for Restaurant Safety
OSHA (Occupational Health and Safety Administration) has established general guidelines for employers of restaurants to minimize the potential for restaurant worker injury and provide a safe environment. Not all establishments meet the standard at all times. Negligence or non-compliance have been fundamental causes of accidents usually resulting from inadequate training and job assignment.
Many injured employees seek counseling from an experienced Chicago Workers' Compensation attorney to acquire a clear understanding of their legal rights.
Thorough training for specific job assignments is an essential element of accident prevention. Employers are responsible for making sure that each new employee is given proper orientation for all tasks that they will be asked to perform. Accidents frequently occur when employees are abruptly shifted to another task for which they have had no training or experience.
Restaurants Can Be Dangerous to Youths
Workers under the age of 18 years of age are protected by the Federal Labor Standards Act that is designed to protect the health and welfare of younger employees. The Act prohibits minors from performing certain tasks such as baking, operating equipment such as slicers, grinders, choppers, pressure fryers, rotisseries and baking ovens. In addition, these employees should not operate outdoor power implements such as lawn mowers or other motorized equipment. They should not work in freezers or work at unloading delivery trucks.
Yet even with child labor protection, employees between the ages of 16 and 19 in their first years of employment are the most vulnerable to injury. When young adults are injured, they often consult with a Chicago Workers' Compensation attorney to pursue a claim against their employers.
Most Frequent Restaurant Injuries
According to the National Institute for Occupational Safety and Health, restaurant injuries have represented the majority of work-related injuries treated in hospitals and emergency rooms in recent years.
Because the counties in northern Illinois have more restaurants than almost any other metro area of the United States, Chicagoland is prone to a substantial deluge of restaurant-related worker accidents. An experienced Chicago Worker's Compensation attorney is best positioned to explain options for injured employees.
As noted in QSR (Quick Service Restaurant) Magazine, the most common injuries suffered in the restaurant environment are:
Cuts and Punctures: Because of the number of sharp objects, knives, and broken plates and glassware that employees are likely to be in contact with, severe lacerations are a very common injury in a restaurant.
Burns: Crowded kitchens, close quarters and hot stoves, liquids and spilled foods are extremely common in restaurants. A worker does not have to be engaged in cooking to receive burns as they may accidentally bump into a hot surface or an injury-producing substance. As restaurants add items to their menus, additional equipment and personnel are making kitchen and storage areas more cramped than the original kitchen design anticipated.
Sprains and Strains: The mission to do more with less while handling higher volume during a short window of opportunity often causes employees to perform jobs that they may not be capable of or trained for. Injury from lifting and carrying cases, standing for extended periods, reaching for products while in awkward positions or slipping on wet surfaces have caused serious employee injuries.
Eye Injuries: Working near hot oils and certain chemicals have caused serious and permanent eye and skin damage to restaurant employees.
Creating the safest possible environment in a food service workplace should be the employer's most important objective. Employers should ensure staffing, training and proper procedures are in place. While injuries disrupt the lives, income and families of their employees, these occurrences can become very costly for the establishment.
Steps an Employee Should Take When Injured
Parties suffering work-related injuries should follow these steps: 1. Seek immediate medical attention. 2. Notify a supervisor to report the accident. 3. Follow doctor's advice. 4. Return to work when possible.